Hong Kong-based Metrojet Limited, a premium business aviation service provider being part of the Kadoorie Group, is pleased to announce that its New Hangar Parking and Maintenance Facility in Clark, The Philippines has reached a major construction milestone today with the stress erection of the hangar roof structure.
The hangar facility has a clear span of 110 m x 63 m depth with a 21.5 m height to the apex. When completed, the hangar with over 7000 m2 of floor space will have the capacity of accommodating up to 10 long range business jets including Boeing Business and Airbus Corporate jets.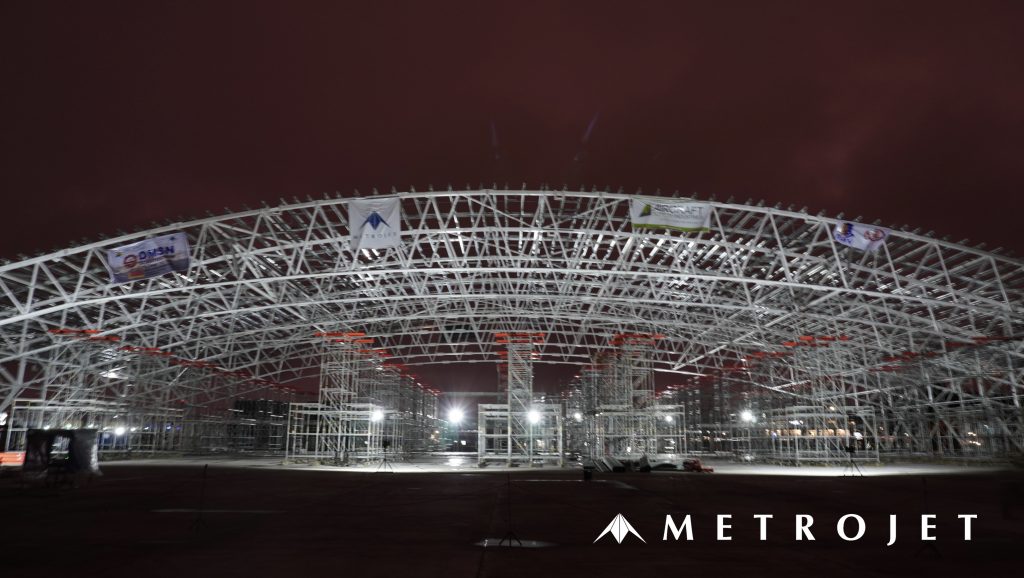 Workshops, stores, staff and customer offices and available space for a dedicated fixed-base operator (FBO) encompass 2500 m2 of a two-storey annex building on the rear of the hangar. Coupled with 11,000 m2 of apron area in front of the hangar and an exclusive taxiway, the completed facility will be a world class facility that is targeted to be operational in Q2 2020.
The stressed arch technology used in the construction of the hangar facility has been designed to the highest International standards including typhoon and seismic loadings which meet current Philippine codes. The system has been utilised in over 100 aircraft hangars worldwide and is known for its structural stiffness, durability and cost efficiencies.
The facility will have a fully compliant NFPA 409 fire suppression system, meeting the highest fire standards in the world today. Compressed Air, 400hz power systems, general power and water are spread throughout the facility including floor pits within the hangar floor. Vertical lift doors will be used for the main hangar doors, giving a clear opening of 110 m and ensuring the hangar is fully sealed and secure when the doors are closed.
Established in 1995, Metrojet pioneered business aviation services in Hong Kong and remains one of the most renowned safety and customer-focussed business jet operators and maintenance providers in Asia Pacific. The company provides all-inclusive aircraft management, maintenance and aviation consultancy services.